Welcome to campsite Moulin de Liort
12440 La Salvetat-Peyralès, France
Tel. 0033(0)5-65-81-89-67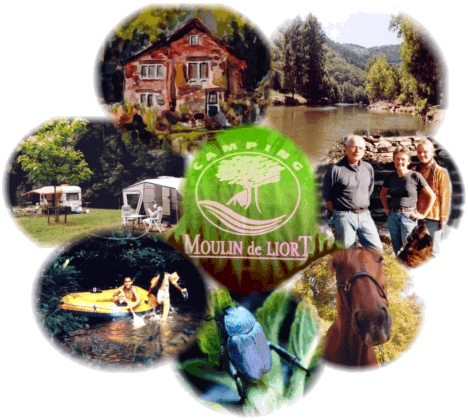 Moulin de Liort is a campsite in the heart of a gorgeous valley. A little river streams through, giving a calm and cosy atmosphere. The 18 spacious camping spots each have sun and shade. The hills around the campsite are perfect for hiking.

The region is known for its Bastides (fortified towns) such as Villefranche de Rouergue, Sauveterre, and Najac, where time seems to be suspended. The history of the Aveyron has been marked by the Templars and the Cathars.
Kids can play in the river on-site. 4.3 miles away there is larger river, the Viaur, ideal for swimming for the whole family. In high season, we organize all kinds of activities. Hikes, tours at the local farms, campfires, kraft activities with natural materials and much more.
At the house is a store where you can buy fresh vegetables from the garden, bread, fresh eggs from our chickens, home made jams, juices and different wines. At the bar we offer excellent espresso and cappuccino.
For the kids there is also a playground and a pingpong table.